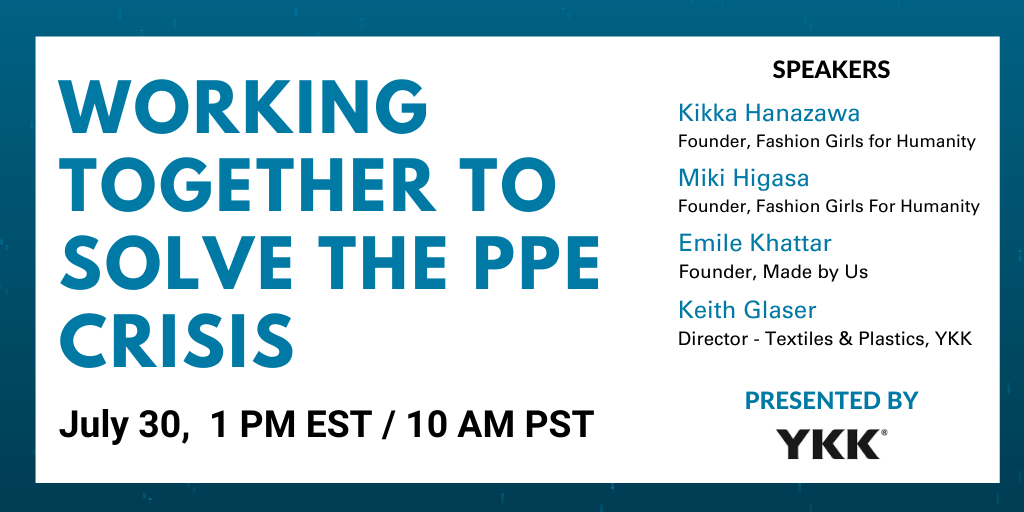 FREE WEBINAR
(This Webinar is limited to the first 100 registrants)
Thursday, July 30, 2020
1:00 PM - 1:45 PM US Eastern
12:00 PM- 12:45 PM US Central
11:00 AM - 11:45 PM US Mountain
10:00 AM - 10:45 AM US Pacific
5:00 PM - 5:45 PM UTC
About This Webinar
As the COVID-19 pandemic continues to create a severe shortage of personal protective equipment (PPE) needed by front-line healthcare workers, we will discuss how fashion industry leaders are taking action to alleviate the PPE crisis.
Key Takeaways:
How we can support our local communities through PPE production

How to obtain patterns for sewing your own gowns and masks

How-to tutorial videos to create PPE
Get to know what kind of trims kits you should prepare for creating PPE


Kikka Hanazawa
CEO of VPL and co-founder of Fashion Girls for Humanity
Kikka

is an investor of various social enterprise businesses including VPL, a woman's wear company dedicated to women's education, and founded non-profit organization 'Fashion Girls for Humanity'.
Emile Khattar
Founder & Executive Director, MadeByUs
Emile wanted to empower people who have been stuck at home, feeling helpless, to join the fight against COVID-19. MadeByUS is a Virginia nonprofit initiative aimed at setting up local networks to create jobs and PPE to support local frontline healthcare workers.

Miki Higasa
Founder of Kaleidoscope Consulting and co-founder of Fashion Girls for Humanity
Miki is an expert in brand strategy, marketing and communications specializing in the fields of fashion, design and lifestyle.
Keith Glaser
Director - Textile & Plastic Products, YKK USA
Keith has been working at YKK (U.S.A.) Inc. for more than 21 years in the textile & plastic product industry, with over 10 years in the hygiene and medical markets.